July 4th, 2011 | Published in Blog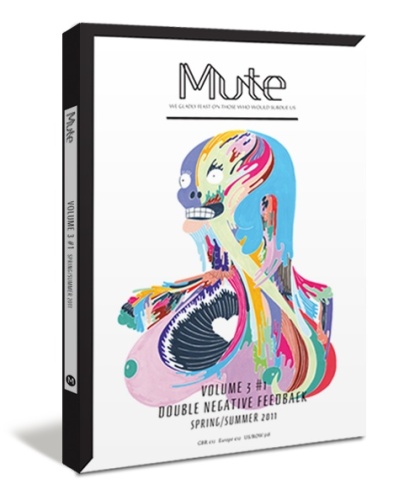 We're a bit behind on this one, it's been out nearly a month, but I only just spotted it. Mute is reliably one of the best reads around and this issue is particularly snazzy. What first caught my eye was the interview with Graham Harwood about his exhibition Coal Fired Computers – which aims at unveiling the energy politics and materialism  buried in our idealised communications economy – an approach that chimes with the one we're taking on the upcoming Bang the Bore show at the John Hansard Gallery in Southampton, and with some of the ideas that were rattling around my head when I put together Maersk and the accompanying blog.
Even if that doesn't take your fancy there's plenty that might including the fantastic hyperkinetic illustrations from Mimi Leung and articles covering feedback, cybernetics and the rehabilitation of psychedelia; Cocaine Capitalism,  Collective Improvising and, of course, Etruscan Corpse Torture.
Also, without getting too worthy about it – Mute just lost their funding and they need your dollah. It'd be a massive shame if such a great mag, and one that really makes the most of existing in print died or went entirely digital – so pricey as it is, bear in mind that it only comes out 4 times a year and it's as thick as a "proper" book.
Stick it in your toilet and impress guests.